OAS Playout - Enhanced Mode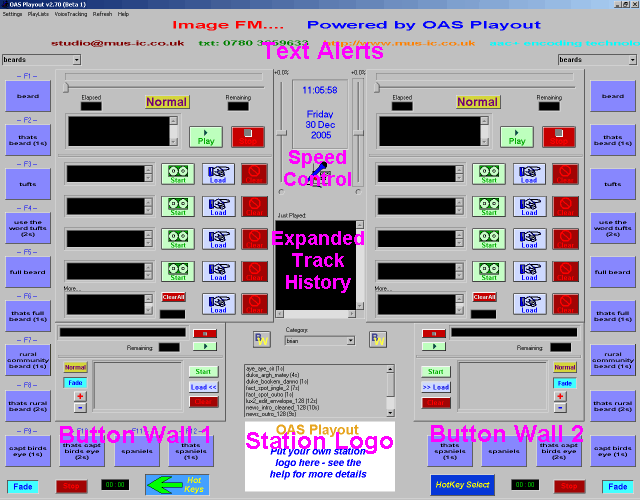 In addition to the standard capabilities of Playout, the following additional functionality is available:
Enhanced button walls - a twin button wall, one per channel with independently selectable button assignments for maximum flexibility.



Independent track speed controllers, allows you to vary the playback speed of each main player to enable seamless beat matching and mixing.



Expanded track history dialog - quickly view full details of the most recently played tracks.



Text Alerts - similar to the BBC style news 'ticker' providing instant access to station details and other 'flash' alerts. Text is colour coded and can be held in the Playout database or retrieved from a web page.



Customisable 'station logo'
Playout automatically adapts to this mode of operation once it detects an increased screen size is available however it can be disabled through one of the program settings, in which case the standard mode will be utilised.
Getting to grips with OAS Playout
Playout is designed to be an intuative, easy to use package but to gain full advantage of any powerful application, clear and coherent user guides, help and other documentation are a must. Playout's Quick Start Guide is the starting point for this, enabling you to quickly get up and running with the package. From there, a comprehensive User Manual walks through all the key features of the software, starting off from initial loading of music to discussing backup and disaster recovery strategies. There is also a detailed guide to creating automated customised playlists and a Developers Guide for taking Playout further. This is all backed up by a comprehensive OnLine help system which covers all aspects of the software.
We've also teamed up with our friends at Cultural Media Enterprise who now offer an industry recognized training course on Community Radio Broadcasting Skills based around the OAS Playout system.
Next.... interacting with OAS Playout.